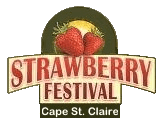 After months and months of preparation, the yearly Cape St. Claire Strawberry Festival is set to take place this Saturday June 6th at 10am! The rain date is Sunday, June 7th at 10am.
If you've never been to the Strawberry Festival before, we strongly encourage you to go as it's a great chance to meet with your neighbors, enjoy the beautiful scenery, and help out the local businesses. For more detailed information on the festival, please visit the Cape St. Claire Strawberry Festival webpage.
Let's cross our fingers and hope for sun. Here's the forecast:

The location could not be found.