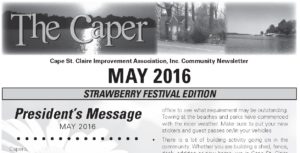 April showers have brought May showers. While we can't seem to kick the clouds and rain, mother nature said she plans on clearing the skies by the time June 4th rolls around. The Strawberry Festival executive team is working overtime to make the 2016 Strawberry Festival the best one yet.
If you haven't heard, the Berry Bus Stops will help to relieve congestion by picking people up at designated spots throughout the Cape. The new Caper has a map for you to hold onto or you can use the image right here. This Caper edition also contains all of the forms you might need for the Festival. You can also visit the website.
This issue contains a major update on the Beach Restoration project that was announced some time ago. In community news, The Garden Club is having their plant sale on May 14th and Cape Conservation Corps is having their community tours today (May 7th) so head over to their website to get the information.
Lastly, don't forget about mosquito prevention. Page 7 has some great information on the way we can all help to keep the tiger mosquito at bay this year.
May 2016 Caper
Seee you around the Cape.