The Caper – June 2019 Edition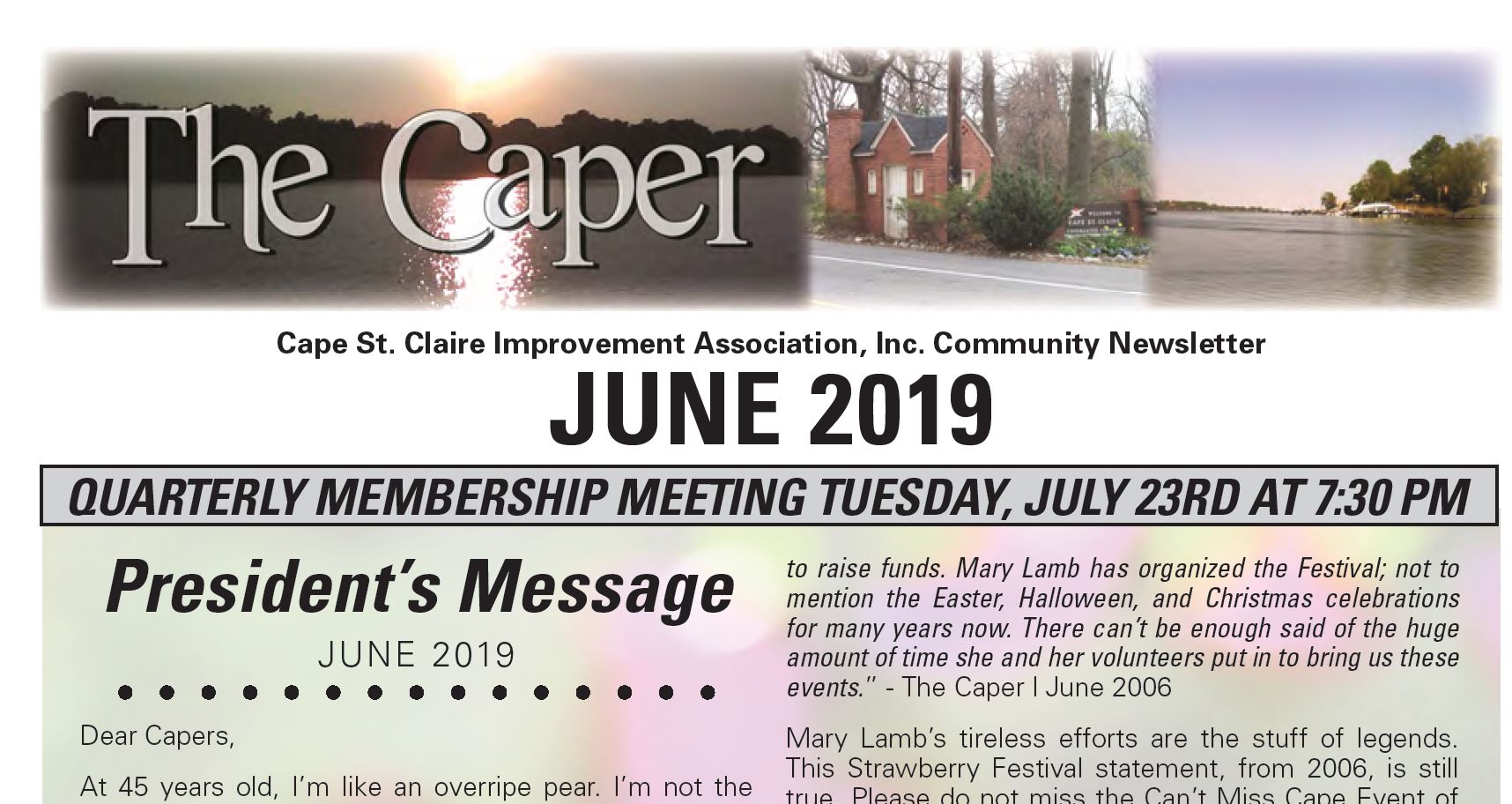 70. That's a pretty big number. Bill goes into what it all means in his Presidential message. You have to read it because it's important and awesome.
Hopefully, most of you know by now that the new playgrounds are open for business. Feedback has been pretty good and we've been excited to watch all of the kids playing on the new equipment. Ryan, our Town Manager, was instrumental in getting them done. He is celebrating his one year anniversary with the Cape, so please give him a thanks if you see him.
Also in this issue, in community news, The Garden Club thanks everyone for their support at the Annual Plant Sale on May 18th. It was a major success. In their message, they discuss mosquitoes and their common backyard sources. CCC is looking for volunteers to remove weeds from the Serene Ravine and the Little Magothy Rain Garden and in the fall at the Clubhouse Rain Garden. Email vp@capeconservationcorps.org if you want to join the team! Goshen Farm is hosting the acoustic concert series from 6:30 to 8:40pm starting on June 28th. More details on our amazing community groups are in this month's Caper.
There's a buzz of activity right now around the Cape in trying to get ready for the MAIN EVENT. The Strawberry festival is only a few short days away. The weather looks good. We're very very excited. 10am. Parking is tough so don't forget to check out the Berry Bus Stops which will help you get around. Don't forget to check out all of our wonderful community organizations who will be setup through the festival grounds.
Lastly, the proposed by-law changes is in this month's Caper for your review. The ballot will be used in July to vote to approve or deny the changes. We also have a webpage dedicated for you to read through.
So many things are happening now and this Caper will fill you in. Check out your copy today and see you around the Cape!