Planning that next get together with family or friends?
Why not have it at the Cape St. Claire Clubhouse? It's great for parties, weddings, anniversaries, and meetings. Plus, you won't need to travel far.
The clubhouse can seat up to 150, however, 125 is a good fit with a DJ and a dance floor. Main hall rentals includes use of the kitchen which has a stove, refrigerator, freezer and ample working space.
Note that all parties serving alcohol must apply for a temporary (1 day) liquor license. See this form for details.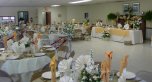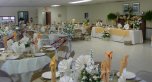 For smaller meetings, there is the Cox meeting room. The Cox meeting room seats about 18-20.
Renting the clubhouse is for residents of Cape St. Claire only. Please note that Beach Access is not included in the rental. The Overlook may be reserved for your wedding service for $50.