The June Caper is now online!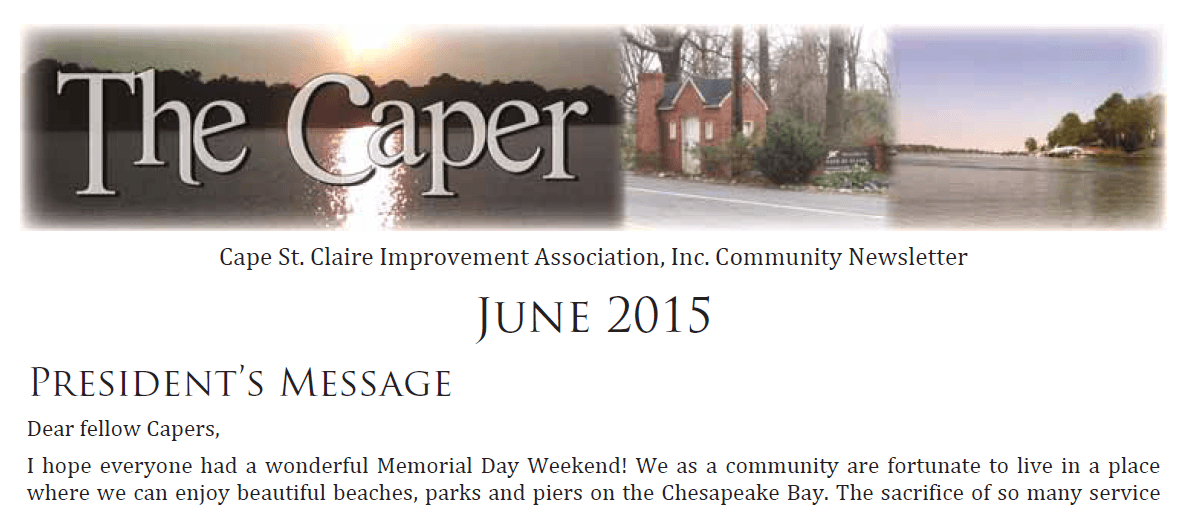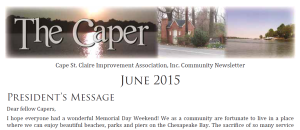 Hot off the presses is the new June 2015 Caper. Another great issue awaits you. This month, Beau delivers another great message filling us all in on the beach pathway construction which finished Phase II. For those who haven't seen it, go and check it out. Construction on Cape St. Claire Road is (finally) underway, expect more delays when you come and go on Cape St. Claire Road for the summer. Don't forget about the Strawberry Festival this weekend and its new website. Be sure to check out Beau's general housekeeping items which contain information necessary to enjoy the beaches this summer.
Information and signups for the July 4th parade and celebration on the beach is in this issue. Details about a great musical drama, put on by Christ Our Anchor Presbyterian Church, is in this Caper. The history behind Goshen Farm, and Friends of Lake Claire's upcoming events (Oh wait! I mean Cape Conservation Corps) are here for you as well.
Get settled in and download your color copy right now!
If you haven't checked out The Cape on the news, here's Beau's interview with Arundel TV:
[youtube id="TqWuvaBQSeQ" width="100%" height="400″]