The May 2018 Caper has arrived!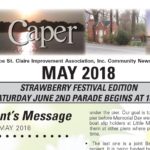 Soon, this gloomy April will be a thing of the past. There's no better indicator that things are changing by the release of the Strawberry Festival Edition of the Caper. Beau's message talks about the Pier Projects still ongoing which will hopefully be done soon. There's also information in his message about the two County led projects which are starting up in May.
Don't forget, coming up, May 12th from 10am to 2pm at the Clubhouse fields is the Cape St. Claire Volunteer Fire Company Touch-A-Truck fundraiser. It's an amazing event for the kiddos. Come out on May 19th from 8am – 2pm at the Clubhouse fields for the Cape St. Claire Garden Club's Annual Plant sale. More information on both of these great events can be found in this month's Caper. Don't miss great write-ups from Goshen Farm and CCC in this month's Caper. There's great information there as always.
Then, if you haven't already, set your calendars for THE event of the year. The Strawberry Festival is set to kick off at 10am on June 2nd with the parade from the firehouse. Then, around 11am, things blast off quickly. All of the forms you need are in this Caper. If you're looking for even more information about what's in store this year, check out the Strawberry Festival's website.
See you around the Cape!