The Caper's July and August Double Issue has hit the virtual newsstands!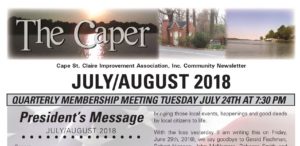 Tragically, the Cape lost one of the good ones a few weeks ago due to the Gazette shooting. Beau, in his Presidential message, gives a heartfelt speech about what Wendi Winters meant to this community. It's not to be missed. The first official message from the Town Manager, Ryan Anderson, is in this Caper also. He speaks about the issues at the boat ramp and other pier topics. It's a must read.
In community news, Goshen Farm will be holding their annual wine tasting and silent auction on August 18th from 4 – 7pm. It's at the home of Val Sullivan. More information can be found in this Caper or online.
Cape Conservation Corps announced their second Habitat Hero Winner. Rod & Trish. Their second annual native fall festival and plant sale will be help on Saturday September 22nd from 9-12 so mark your calendars!
The Garden Club continues its Bay-Wise Challenge by asking community members to take simple steps like mulching, mowing grass high, using rain barrels, and clearing debris from storm drains, Bay-Wise gardeners help precipitation soak in and reduce nutrient & waste runoff to keep our precious waterways healthy. 4 more community members recently received their Bay-Wise Certifications. See http://baywise.weebly.com for more information. More information on all of the things going on at the Garden Club are in this issue.
Don't forget, Cape Cleanup is coming Friday September 7th & Saturday September 8th. More details can be found in this issue.
The 2018 Strawberry Festival was amazing. Look back on this great event with full color images in this issue. Isn't this really what you've been waiting for?
See you around the Cape.