The September 2018 Caper has arrived!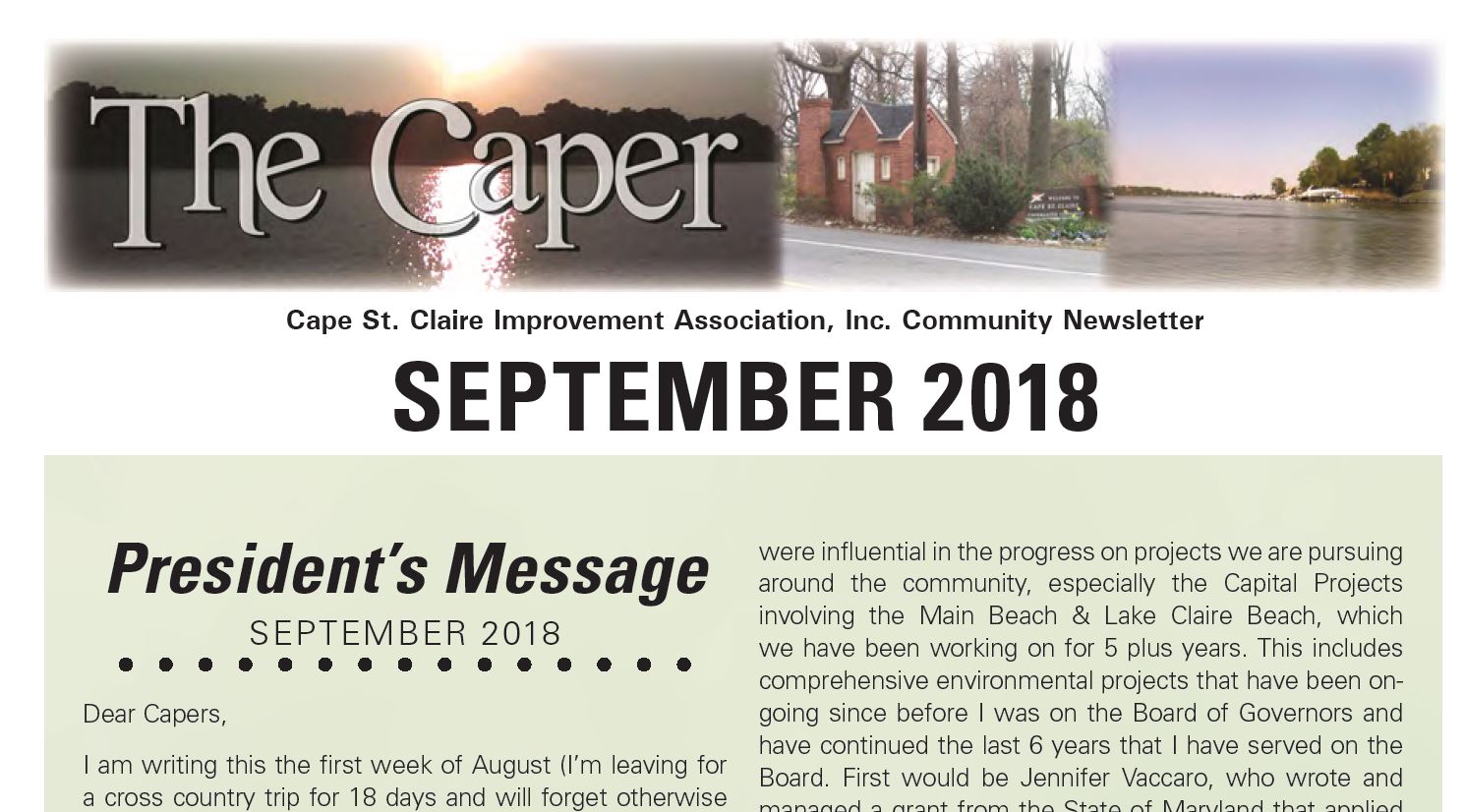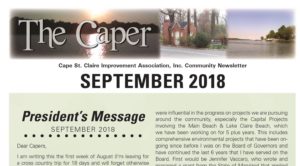 Summer might be winding down on the calendar but don't tell that to Summer. Oppressive heat will continue and Capers will long for apple cider, orange and red foliage, and cool temperatures. For now, we sweat.
This issue of the Caper is PACKED. Beau, President of CSCIA, thanks everyone for their service on the Cape Board and around the community. It's a touching President message and a must read. Ryan Anderson, our Town Manager, gives us an update on some of the latest projects around the Cape.
Around the Cape, many of our community organizations are busy. Goshen Farm has their open house on September 15th from 10am – 4pm. Also, their pasta dinner will be held at Gloria Dei Church on October 13th from 5:00pm to 7:30pm. The Garden Club is hosting Michael Judd of Ecologia speaking on Growing Edible Fungi at October 2nd at 7pm. CCC will be hosting their 2nd annual Native Plant Sale and Fall Festival September 22nd 9am -12pm in the field behind the clubhouse. They will also have their Harvest Bash on November 2nd. More information on all of these great community events can be found in this month's Caper.
Don't forget about Cape Cleanup, scheduled for Friday, September 7th & Saturday, September 8th at the corner of Broadview and Cape St. Claire Road. More details about this can be found within. Also, photographers, don't forget to submit your entries by Thursday, October 4, 2018 for the 2019 Cape Calendar. More details inside.
It's time to start thinking and signing up for Halloween Happenings. Grab the sign up and information forms in this issue.
Did I mention this issue was packed? It is. Grab your copy here and start reading.