The New October 2018 Caper!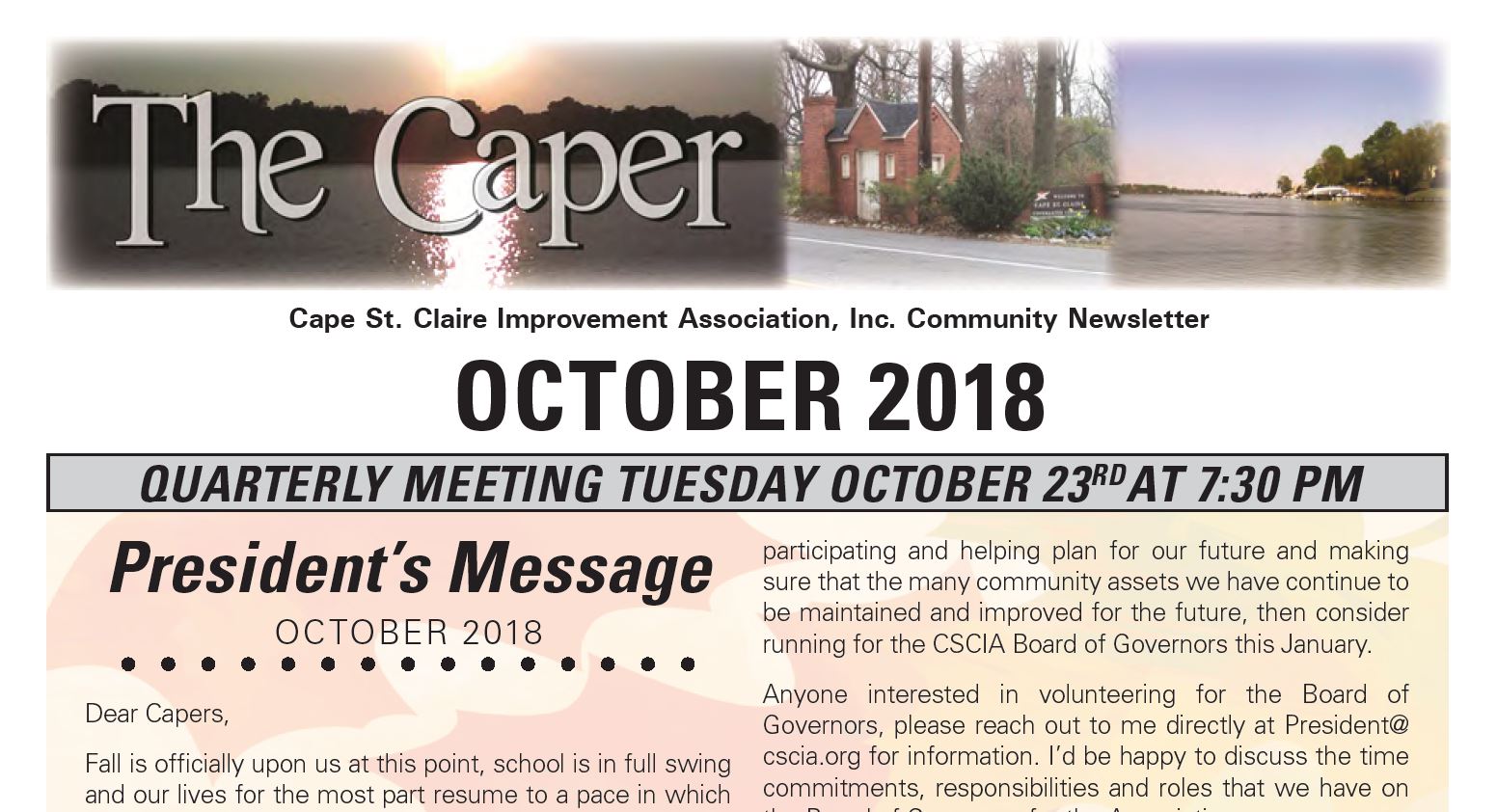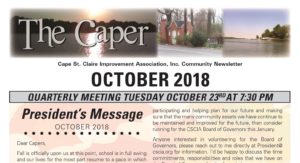 October has arrived and the rain has finally let up. Glad it did before we all started to mildew. In addition to things changing from green to yellow and orange, the fall also ushers in other changes as well. The Cape will be hosting two Candidates Nights this month. The first, on October 4th at 7:30pm at the clubhouse, is the County Candidates Forum. Offices invited include County Executive, States' Attorney, Sheriff, County Council District 5, Board of Education District 5, Clerk of the Court, Registrar of Wills and Orphans Court Judge. On October 18th at 7:30pm at the clubhouse is the State Candidates' forum, included are Senators from Districts 30&33 and Delegates from 30A & 33.
In this issue, Beau's Presidential message talks about the CSCIA's need for volunteers. We're technically 3 board members short and would love others to step up and join in January. Ryan, the Town Manager, talks about the many projects currently being worked on. Expect the new playgrounds to go in at Main Beach and Depp Creek during the end of October.
Halloween Happenings is coming to the Cape St. Claire shopping center on October 25th, 2018. Trick or treating begins at 5:30pm and goes until 6:30pm or when the candy is gone! Then, on Saturday, October 27th from 10am to 3pm, the Strawberry Festival Committee will host Halloween Happenings down at the clubhouse corral. Admission to the event requires $5 per child and the donation of non perishable food items. For more information on these great events please check out this latest Caper.
The Garden Club is asking everyone to attend their monthly meeting on Tuesday October 2nd where they will feature speaker Michael Judd, who will discuss Growing Edible Fungi. Then, on Sunday October 21st at 6pm they will hold their annual Harvest Dinner. More information can be found in this issue of the Caper.
Goshen Farm's Annual Harvest Spaghetti Dinner will be held on October 13th, 2018 from 5:00 to 7:30pm at the Gloria Dei! Lutheran Church on College Parkway in Arnold. Check out page 7 for more information on this great event.
Don't forget the Save the Date for <a href="http://capeconservationcorps.org/events/event/3rd-annual-harvest-bash/">Cape Conservation Corps's 4th Annual Harvest Bash</a> which will happen on Friday November 2nd from 7:00pm to 10:00pm. Don't forget to signup online! Don't forget to check out Stacey Wildberger's great write-up on Backyard Baby Critters in this month's Caper.
Lastly, the CSCIA's quarterly meeting will take place on Tuesday, October 23rd at 7:30pm. I know we'll see all of you there! Right …. right?
See you around the Cape!