April 2019 Caper has arrived!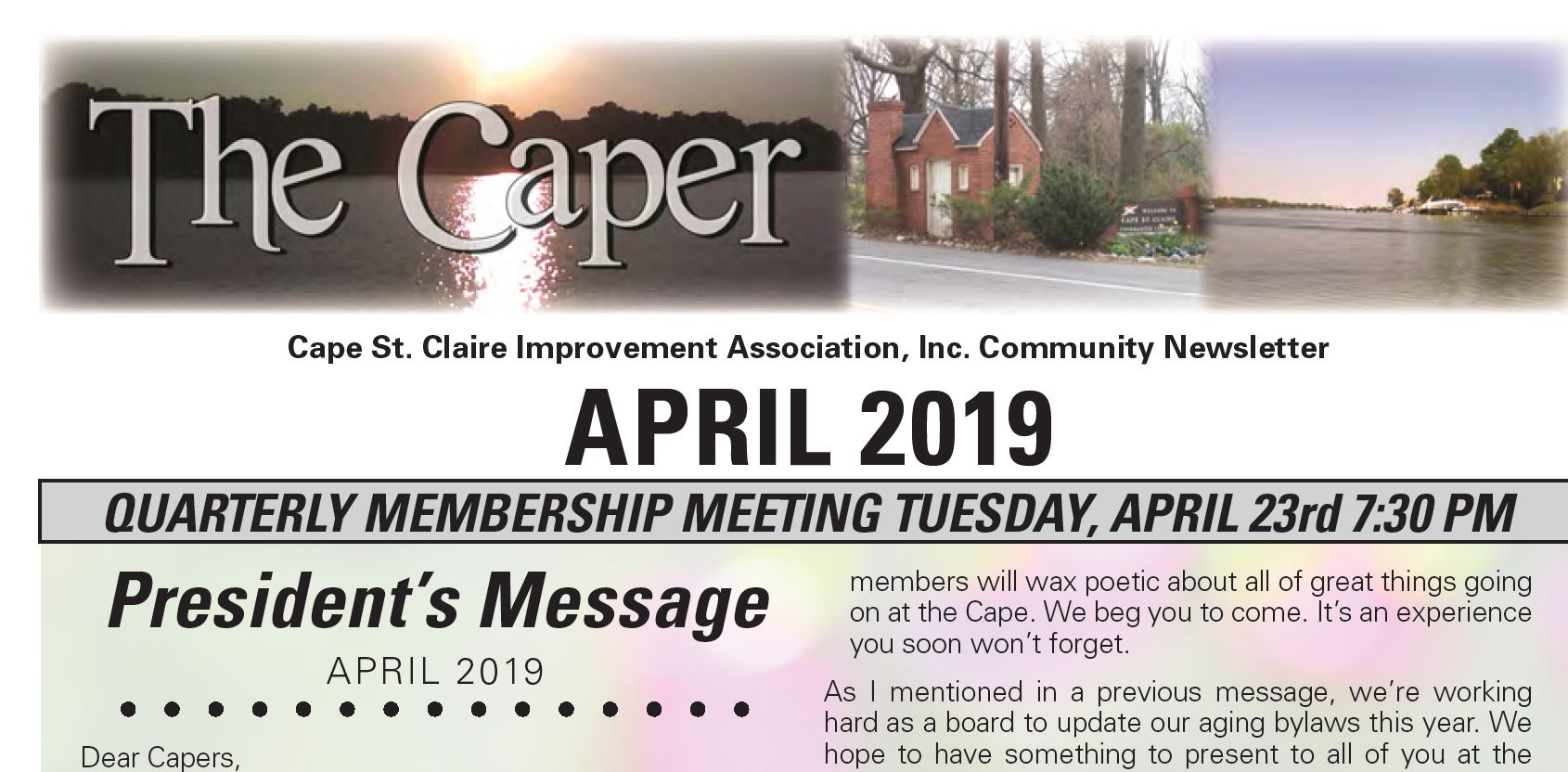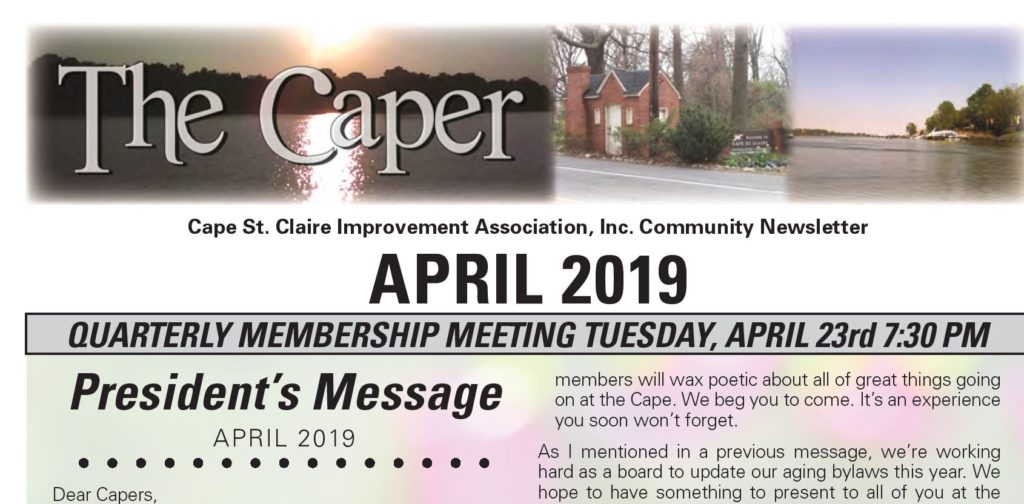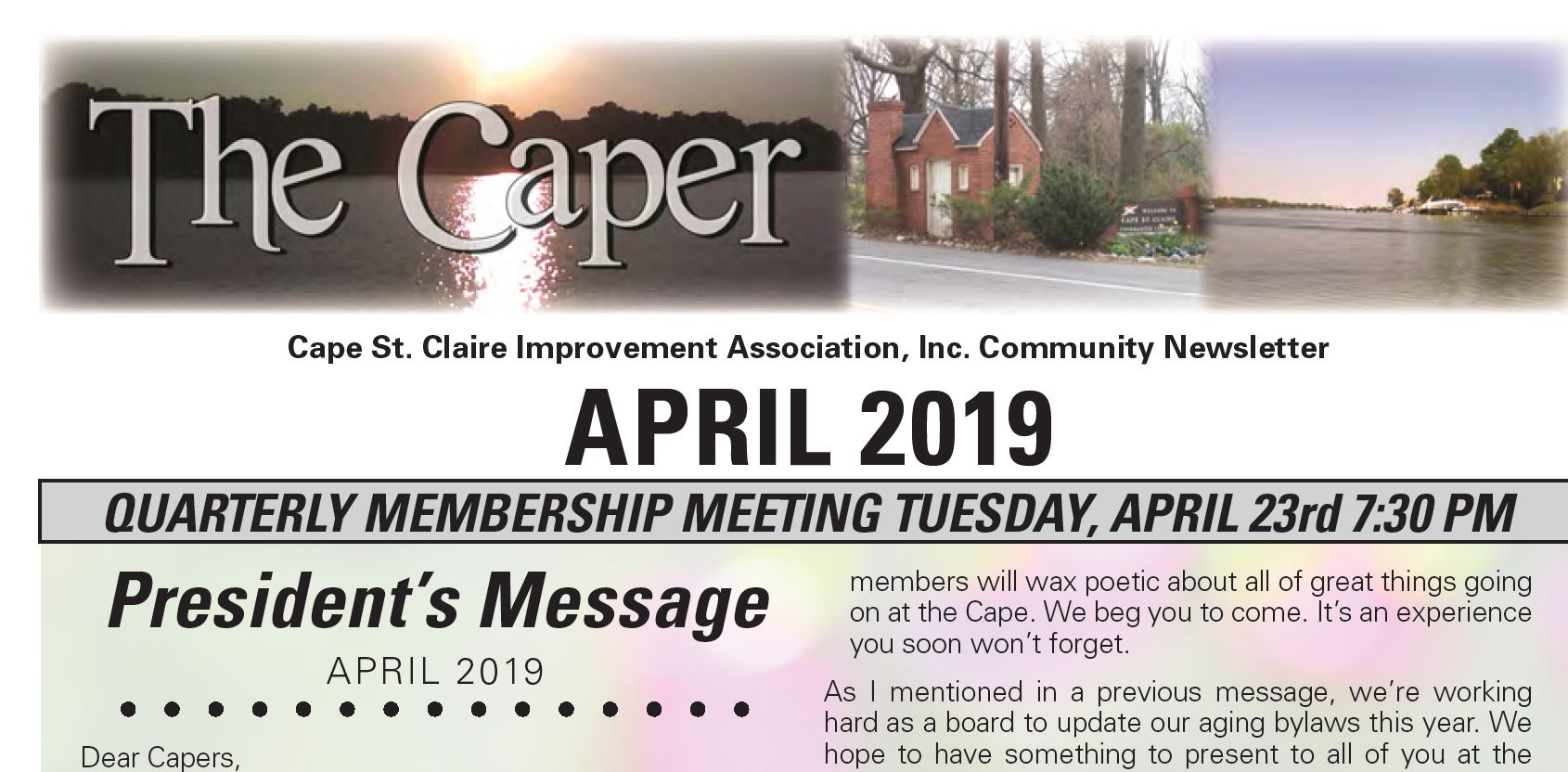 Lots going on in the Cape these days. It's springtime afterall. Bill talks about many of these things in his April Presidential message. If you haven't paid that $10 maintenance lot fee, it was due by March 1st. Head on down to the clubhouse to take care of it.
Our variance was approved by Anne Arundel County for the playground on the main beach. We're still waiting on work for the Deep Creek location. The goal is to have the new playgrounds in place by the Strawberry Festival.
Make sure you mark your calendar for the Quarterly Membership Meeting on Tuesday, April 23rd 2019 at 7:30 in the clubhouse.
Ryan, the town manager, has a great message to share with all of you. He gives more details on the playgrounds and upcoming events. Go and check it out in this issue.
The Easter bunny is coming to the Cape on Saturday April 13th at the main beach at 11:00am. Stop by Whimsicality in the Cape Shopping center for more details.
In Community news, Goshen Farm is hosting their spring open house on April 13th 2019 from 10:00am to 4:00pm. Naturalist Liz Smith will present her magnificent native birds of prey, More details in this issue. Don't forget that the Garden Club will be hosting their plant sale on Saturday May 18th from 8am to 2pm at the clubhouse field.
On Sunday, April 7th, there will be a Cape Community Swap at the Cape Clubhouse field from 10am to 2pm. More details on this great event are inside! Cape Conservation Corps will be hosting their Project Stream Clean on Saturday April 13th from 9am – 12pm. They will be working to clean up the areas behind the ballfields and firehouse that have been recently restored. More details in this Caper.
Spring has arrived! Let's get out and enjoy it! See you around the Cape.