The Caper – March 2019 Edition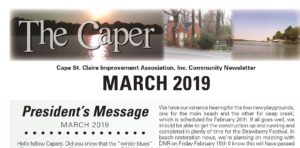 Only in Maryland can you have a winter snowstorm and then follow it up the next day with a high of 60. What are you supposed to think about the seasons? Is Winter more like wring with a light dusting of Fall? I don't know but it's hard to keep up.
We have lots to talk about. Not in this post, of course, but in this months' Caper. It's packed full of Cape goodness. The ramblings from our current CSCIA President will leave you speechless. It ain't Beau that's for sure.
Goshen Farm is hosting their annual Java & Jazz/Tea tunes on March 10th at 3pm at the Goshen Farm. Cape Conservation Corps is hosting their amazing world of native bees, a free event, on March 22nd at 7:00pm at the clubhouse. The Spring Craft show looks to present a host of local wares on March 30th from 10-4 at the clubhouse. The Easter Bunny is coming on Saturday April 13th at the main beach! Mark your calendars! More information on this great event is in the Caper. Looking to run it out? Also on Saturday April 13th is the Escape Through the Cape 5K/1M run hosted by the Cape St. Claire Elementary School PTO. More information is in this Caper.
Don't forget, the Strawberry Festival organizers are in full swing for our grand celebration on June 1st. Be sure to check out https://cscstrawberryfestival.com for more details on that.
We're excited to try and revamp and modernize our by-laws this year. We're looking for flexibility for committee assigning as well as just modernizing the whole experience. We'll have more details on that in the spring quarterly meeting on April 23rd at 7:30pm at the clubhouse.
Don't miss Ryan, our Town Manager's update. He reminds us that maintenance fees are due March 1st so if you haven't paid your $10 dues, be sure to get that in to avoid the late fee.
So what are you waiting for? Get in there and read all about it! See you around the Cape!