The Caper – July/August Edition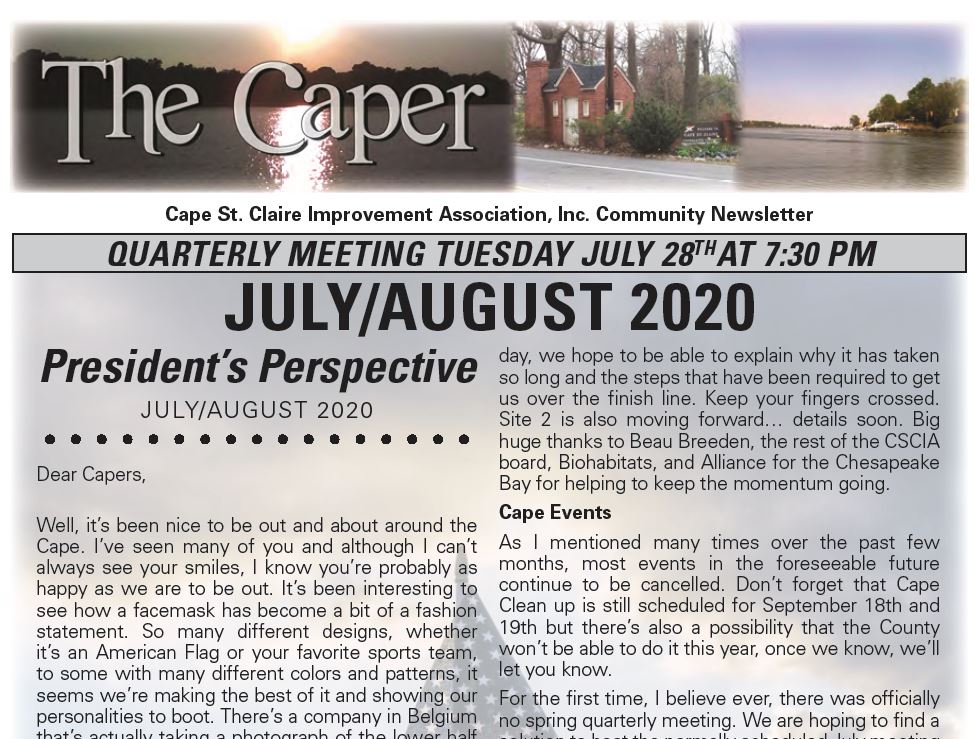 Summer has most definitely arrived. Temperatures have been soaring in the 90's pretty regularly and that means people have been out and about. With that comes mask wearing and keeping a safe distance from others. Staying safe and staying cool has certainly been challenging in a year full of challenges.
Sadly, as the summer months continue, there's nothing but uncertainty about all of the Cape events. So many cancellations. The Strawberry festival is still on a postponed status. We are hoping to be able to have a Strawberry Festival Fall theme this year. Please stay tuned for more details on that.
The clubhouse will be reopening to 50% capacity starting August 1st. There will also be a $100 COVID cleaning fee which is necessary to offset the costs associated with cleaning the clubhouse between every event. More details can be learned by emailing clubhouse@cscia.org.
We will be hosting the Quarterly Meeting on July 28th at 7:30pm. It will be remote using GoToMeeting. There will be no votes taken and will simply be informational to catch everyone up on what's been taking place since we last met back in January. We will be posting to Facebook and this website once we have the links and information ready.
This Caper is not the normal one. It's normally stuffed full of color photos and information about the fall season which will be here before you know it. The President's message gives some information on the Beach Project. Come to the quarterly meeting in 2 weeks for more on that. In this Caper, Ryan talks about being respectful to the beach attendants and talks about the rules for using our beaches. To stay up to date on the latest events taking place, please visit our website and our community organizations: https://capeconservationcorps.org or https://goshenfarm.org/ or https://capegardenclub.wordpress.com.
See you around the Cape!