The Caper – June 2020 Edition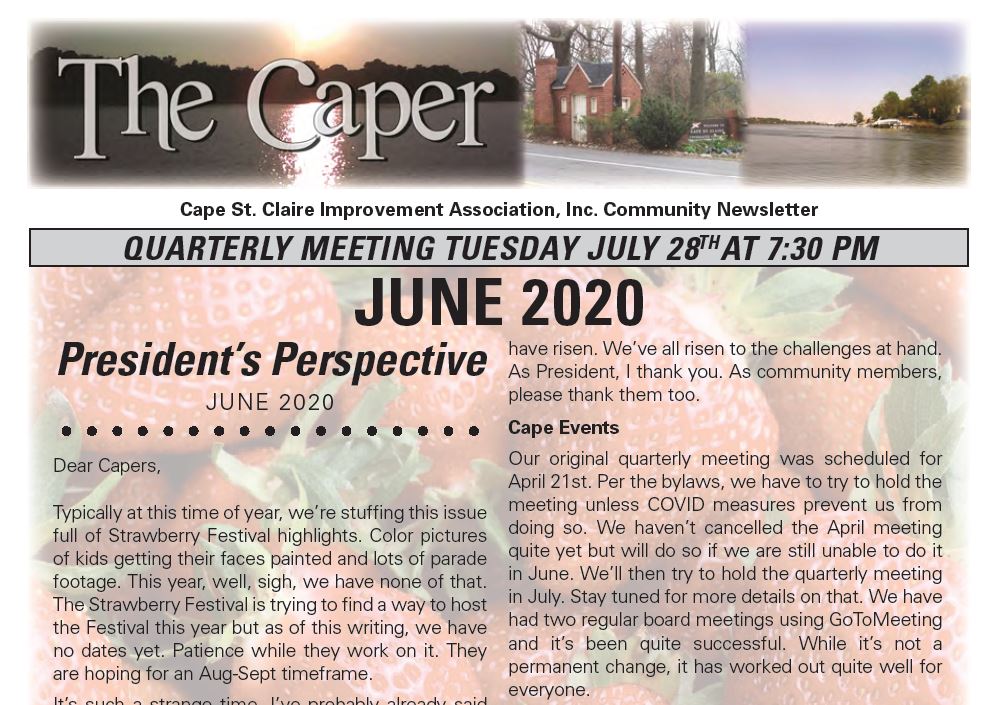 Typically at this time of year, we're finishing up the preparations in time for the Strawberry Festival. Yet this year, as you probably don't need reminding of, we are unable to have it … yet. I've said this for many months but it's a strange time, not only for Cape St. Claire but the Nation as well. I won't wax poetic here on all of the issues and concerns that all of you already know about. This isn't the place for such things. Especially since many of these issues can simply be too divisive. The one thing I really wish we would all agree on is to love thy neighbor. It's so sorely needed here. Patience. Respect. We're all on edge during this chaotic time… all of us. It's corny and used too frequently perhaps but we are all in this together.
I'll put my soapbox away and talk about what you came here for, the latest Caper goodness. Bill's Presidential message tries to put a lighthearted touch on phrases we hope to never hear again after this pandemic is over. (WHEN?) Don't miss it. In addition, he offers his sincerest thanks to the hard work from the board this year. It's been quite a challenging year and we've all risen to the task to manage.
Ryan Anderson, Town Manager, has been managing the community for 2 years now. Congratulations and thanks to him for doing a great job in managing this community.
In Community news, has everyone noticed the Goshen Farm historical sign on Cape St. Claire Road? Awesome to see that kind of recognition on the main highway into the Cape. Big congrats to the Garden Club who hosted their first ever virtual spring sale. More photos and details on this are in this month's Caper.
In preparation and hope, the 2020 Strawberry Festival signups are in this issue. We're hoping to have it and we'll let you know when.
As the shopping center restaurants start serving food and drinks to their customers outside, please take some time and visit them, it's been a hard few months. See you around the Cape!