The Caper – October 2020 Edition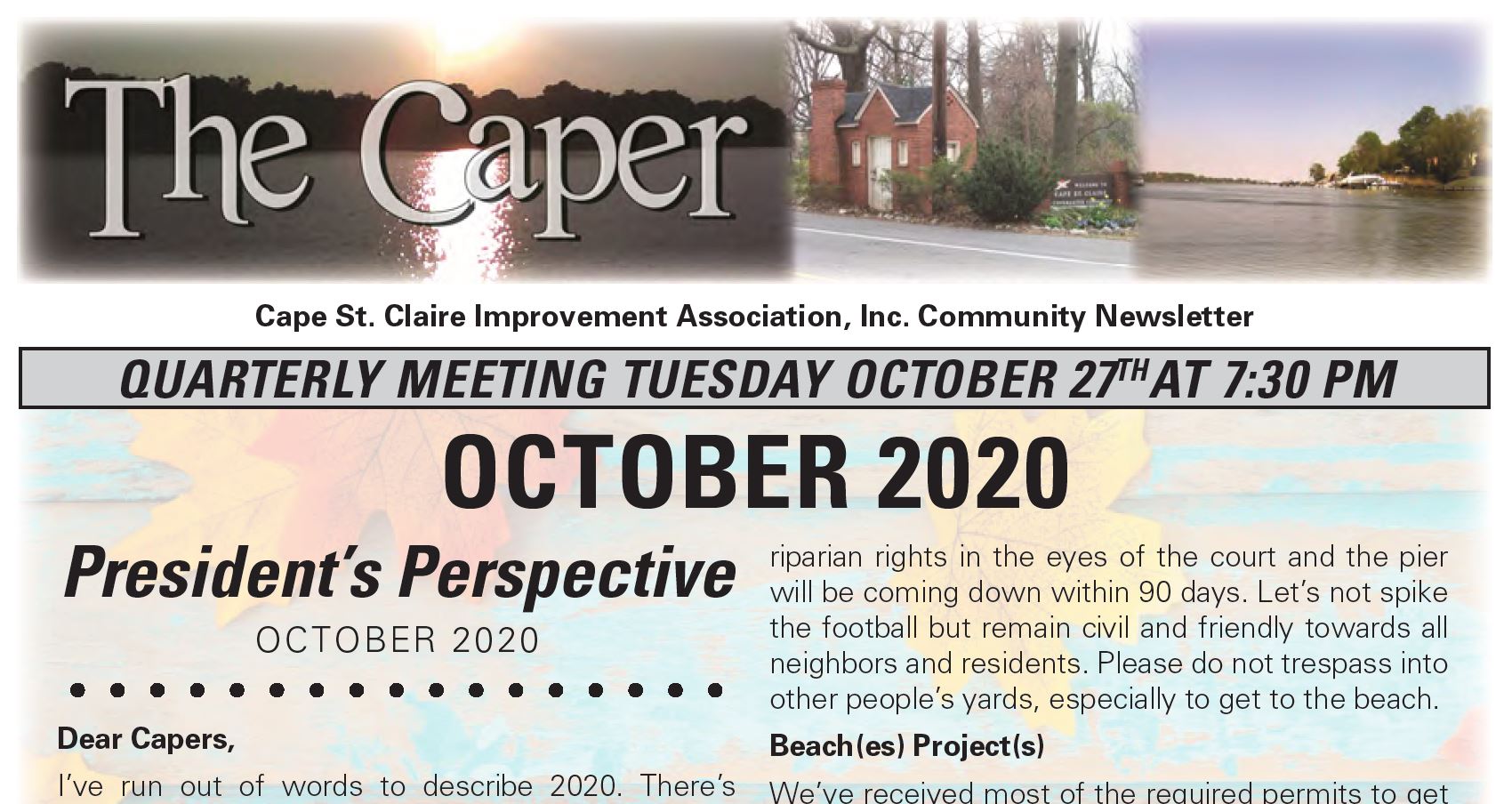 I've run out of words to describe 2020. There's truly never been anything like it … at least in my lifetime. I wanted to chat about the amazing fall events coming up. Can't. I want to hype up what's on the horizon for our Holiday events. Can't. I'd love to talk about back to school and how much the parents have needed that after a long summer. Can't. Can't. Can't. I'm going to add a facepalm emoji here… 🤦‍♂️.
Bill's Presidential message is more of the same. He does bring more clarity to the pier situation. If you haven't read about that yet, jump into this month's newest Caper. The beach project(s) will begin in full force by the spring of 2021. Both site 1 and site 2 projects will be done concurrently. It's going to be a great time to be a Caper. Ryan discusses some changes to how the county will be picking up the falling leaves this year. I won't spoil that news to you here. Our quarterly meeting is scheduled for October 27th at 7:30pm. We hope to have a more viable option to host it this time around. Also, don't forget, Sunday November 1st at 2:00am, the clocks fall on back an hour.
With all things COVID, Halloween Happenings will be different this year. They will be doing a "Guess the weight of the pumpkin" contest outside of the clubhouse. In addition, they will be driving Charlie Brown and the Great Halloween Pumpkin throughout the community. More information can be found on their Facebook page as well as this month's Caper!
Goshen Farm needs your help! This year has been a tough one for fundraising and so they could sure use your help. See information in this month's Caper for information on how you can contribute to this great historical landmark.
Congratulations to Louise Zeitlin for being the Cape Conservation Corp's 3rd quarter Habitat Hero winner. See the great write-up in this month's Caper.
Leaves are changing… temps are getting cooler… but we still need those masks. Stay safe Capers.