The Caper – November 2020 Edition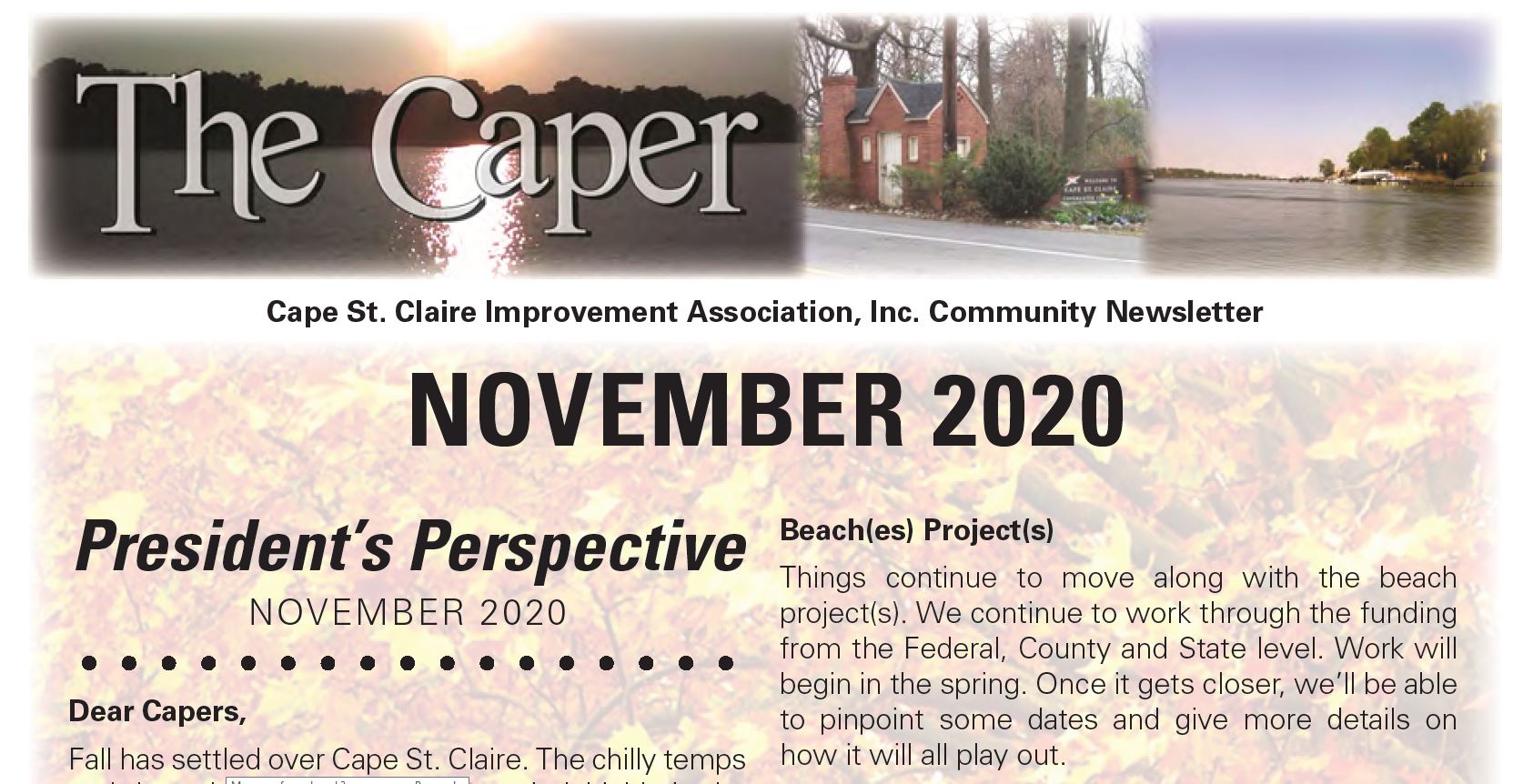 Fall has settled over Cape St. Claire. It was a GREAT Halloween Saturday night, it was truly great to see so many Capers having a safe and fun time. So many tables setup and the conveniently placed beer tubes were a real treat! Yes, things are different but does that mean it has to be bad? If Halloween was proof that change can be a good thing, I'm excited for the holidays. The new Caper has landed in everyone's laps. The President's message talks about trying to keep your mental health at the forefront of your minds… as the temperatures get colder, it's important to look out of you, especially during these times. Don't forget that the Yearly meeting will be taking place virtually on January 12th at 7:30pm; more details to follow.
Ryan, the town manager, discusses the train wreck that has been 2020 and delivers a great yearly review. He does mention that electricity will be installed at the guest shack in time for the Christmas Tree lighting. He also reminds us that we'll be voting on the budget in the January meeting.
This Caper does contain the budget that will be voted on at the upcoming yearly meeting. Please review and email us with any questions. The Garden Club's next meeting will be held at Bay Head Park Pavilion on Sunday, November 29th at 3-5pm. More details on this are in this Caper. Goshen Farms highlights Becky Benner in their article this month as well as a reminder that they could sure use your donations. Information on how to do so is in this Caper. Cape Conservation has a great article by Stacey Wildberger that highlights their 2020 so don't miss it.
We will be having the Christmas Tree Lighting on November 29th.. more details to come! Stay safe everyone and see you around the Cape.