The Caper – December – January 2021 Edition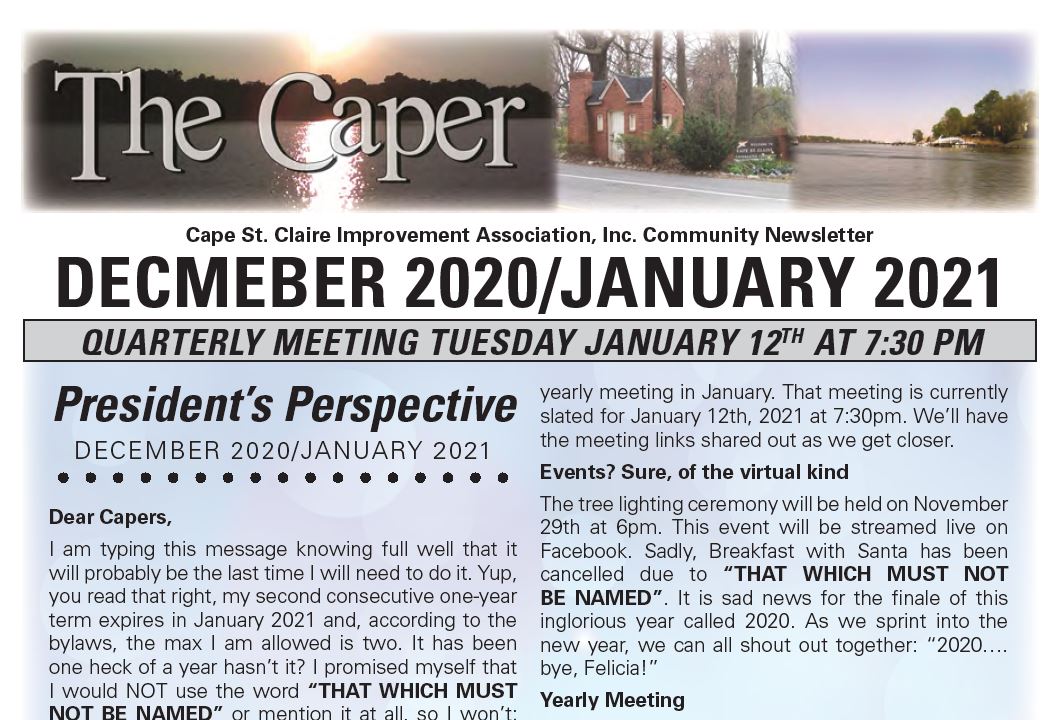 Well, we've made it… to the end… of the year referred to as 2020. It's been a real piece of work. In this month's Caper, Bill's Presidential message is a bit reflective as his 2 one year terms are officially coming to an end. He talks about the Cape's legacy as he leaves office. More information on the upcoming Beach project(s) are contained in this message as well. Ryan, in his town manager message, shares his holiday safety tips. He also reminds us of the upcoming Annual Membership meeting on January 12th at 7:30pm. More details on this meeting will be coming soon.
Speaking of the Annual Meeting, this Caper does include the ballot as well as the bios for the incumbent board members as well as one new one. All ballots must be received no later than Wednesday January 6th to be counted. We will count every legal ballot and can guarantee the legitimacy of this election. In addition, we're asking for a $25 increase in the SCBD cap, we are not increasing the SCBD fee this year.
Thanks to everyone who attended the virtual Tree Lighting this year. I hope you've had the time to swing by the tree and put up whatever ribbon or decoration you'd like to see up there. Please note that any decoration you add to the tree will NOT be returned after the Holiday season.
Goshen, Cape Conservation Corps, and the Garden Club provide great articles, there's an awesome holiday word search and we've even included the history of the candy cane in this issue.
See you around the Cape!