The May 2015 Caper is now online!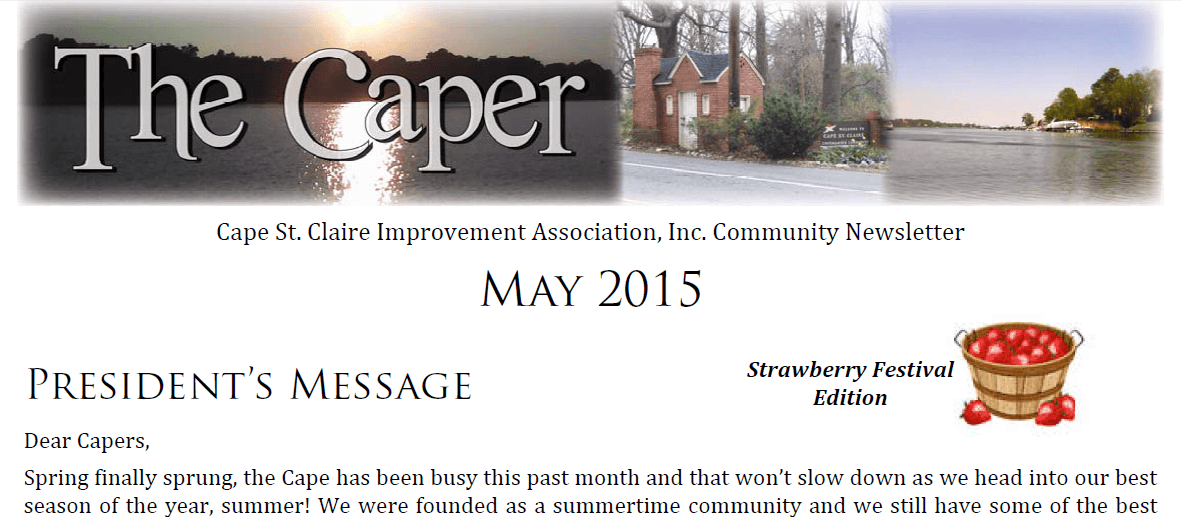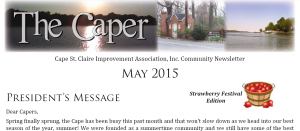 Read it, read all about it! Hot off the presses – the newest Caper for May 2015.
In this issue is all the information you can possibly imagine about the Strawberry Festival. The reason is clear, this is the Annual Strawberry Festival edition. All the information you need is contained within. In Beau's Presidential message, he's asking for all the help the community can provide:
"First, the Strawberry Festival Committee needs more helping hands. This is by far the largest event in the Cape. Mary Lamb and her crew could use some help: The Festival is Sat. June 6th. She could use help on both Friday, June 5th and Saturday, June 6th in the following areas:
Festival set-up and take down, individuals with strength to help put up our fences, tents, stations for the kitchen and clean up and set up the day before.
The kitchen for berry cutting, prep and serve.
Help throughout the day with trash, clean-up and parking
There are so many other areas where we need help. More details on what and where are inside this issue.
The Friends of Lake Claire has undergone a rebirth, find out what that means and what else they've been up to on page 14. Goshen Farm has a great article as well as the Garden Club which is really getting into full swing. Don't miss this great Strawberry Edition of the Caper.
[button text="Read the May Caper Here!" icon="fa-star" style="float-btn" color="theme" url="/wp-content/uploads/2015-The-Caper-05-May.pdf"]
See you around the Cape.