The June 2017 Caper has arrived!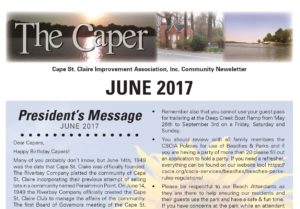 Happy Birthday, Cape! The 14th marks the 68th anniversary of Cape St. Claire, seems like only yesterday. One only assumes, we'll have a grand celebration for its 70th. In the meantime, summer is here and with that the Beaches and Parks crew have some friendly reminders for the upcoming season. It's in Beau's Presidential message so don't miss it. He hopes that the Strawberry Festival was a successful one; for those that were there, we know it was.
A giant Thank You to the Garden Club for their work on the clubhouse. The plantings out front sure look swell. CCC has a great article on building hometown habitats and the importance of native plants, don't miss it. The 4th of July celebration is coming up and there's lots of information about it in this issue. Let's all pray for sunshine, the last two years have had weather problems. Enough already.
We hope to see you at the quarterly meeting next month, July 25th at 7:30pm at the clubhouse. In the meantime, see you around the Cape!