The July/August Caper has arrived!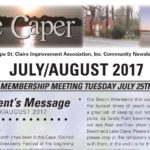 The Cape has been a very busy place. We celebrated the start of summer with the amazing Strawberry Festival. We brought July 4th in with a bang with a great celebration. Residents make us all smile everyday. Their joy and the whole sense of neighborhood. Residents helping others is even more touching when you consider the story from over the weekend and how a group of Broadneck residents saved a man from drowning.
This month's Caper is a double issue which means it's double packed with amazing stories and images. Beau's message is timely and important. Make sure you have your current stickers so you can take advantage of our wonderful beaches. Our Beach Attendants are working hard to keep it an enjoyable place to visit. Don't forget that airborne fireworks are a no, no here in Maryland. Please refrain from using them for you and your neighbor's safety.
Now go and grab your web copy now to check it out in all of its colorful beauty.
See you around the Cape!
[button text="July/August 2017 Caper" icon="fa-newspaper-o" style="float-btn" color="theme" url="/wp-content/uploads/2017-The-Caper-07-July-1.pdf"]