The September 2017 Caper has arrived!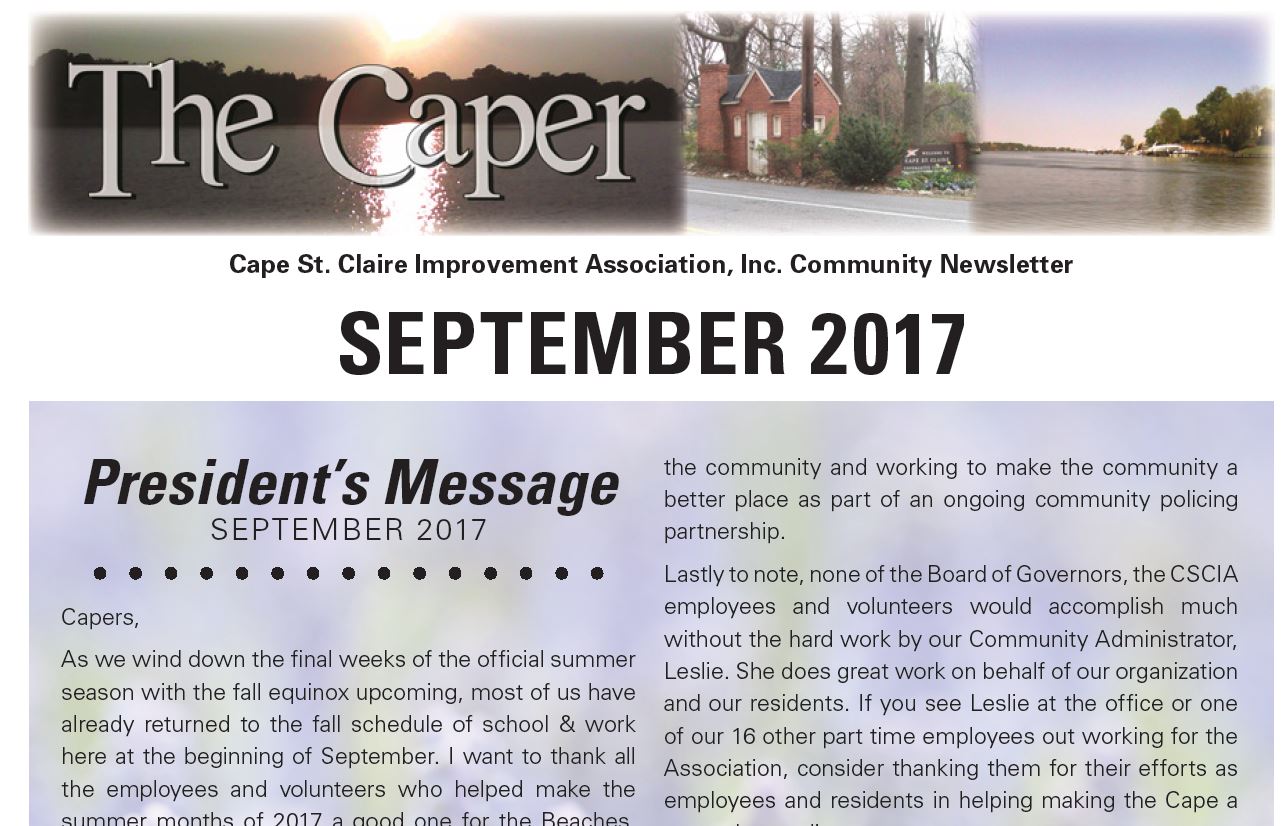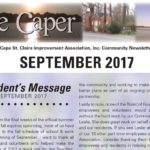 Seasons come and go and life around the Cape adapts to the cooling winds, the rainfall, and the humid air. As this summer comes to a close, Beau takes a few minutes in his message to reminisce about the Summer of 2017 that was and looks forward to the hopes and hard work of what's to come. The October Quarterly meeting is right around the corner and that also means pumpkins and kids dressed in their scariest best. I should pause though before I get too far ahead of myself.
Lots of things are happening: We are in the beginning process of looking for a Town Manager. We've entered into the design phase of the Main Beach & Lake Claire Beaches improvement project. The kitchen in the clubhouse is about to have a remodel that will knock your socks off. Props to Mary Lamb for making these important upgrades happen. More details can be found in this month's Caper.
Cape Cleanup is scheduled for Friday October 20th and Saturday October 21st this year so mark your calendars. Goshen Farm has their Open House scheduled for September 16th from 10am to 4pm. There's important information about this great event inside the new Caper. Look for details about the Caper Calendar Photo Contest happening again this year. Instructions for entering are detailed inside. Halloween Happenings is taking place on October 26th at the Shopping Center for trick or treating and the annual Halloween Festival is on the 28th from 10am to 3pm at the clubhouse. All of the signup information is in this new Caper.
CCC has been busy and will be hosting their first ever Plant Sale on October 7th from 9am to Noon at the CSCIA corral (near the clubhouse) Check out their website and this Caper for more information. November 3rd is CCC's 3rd Annual Harvest Bash from 7pm to 10pm at the Clubhouse.
It's a great Caper so don't delay, open up your copy tonight!
[button text="September 2017 Caper" icon="fa-newspaper-o" style="float-btn" color="theme" url="/wp-content/uploads/2017-The-Caper-09-September.pdf"]