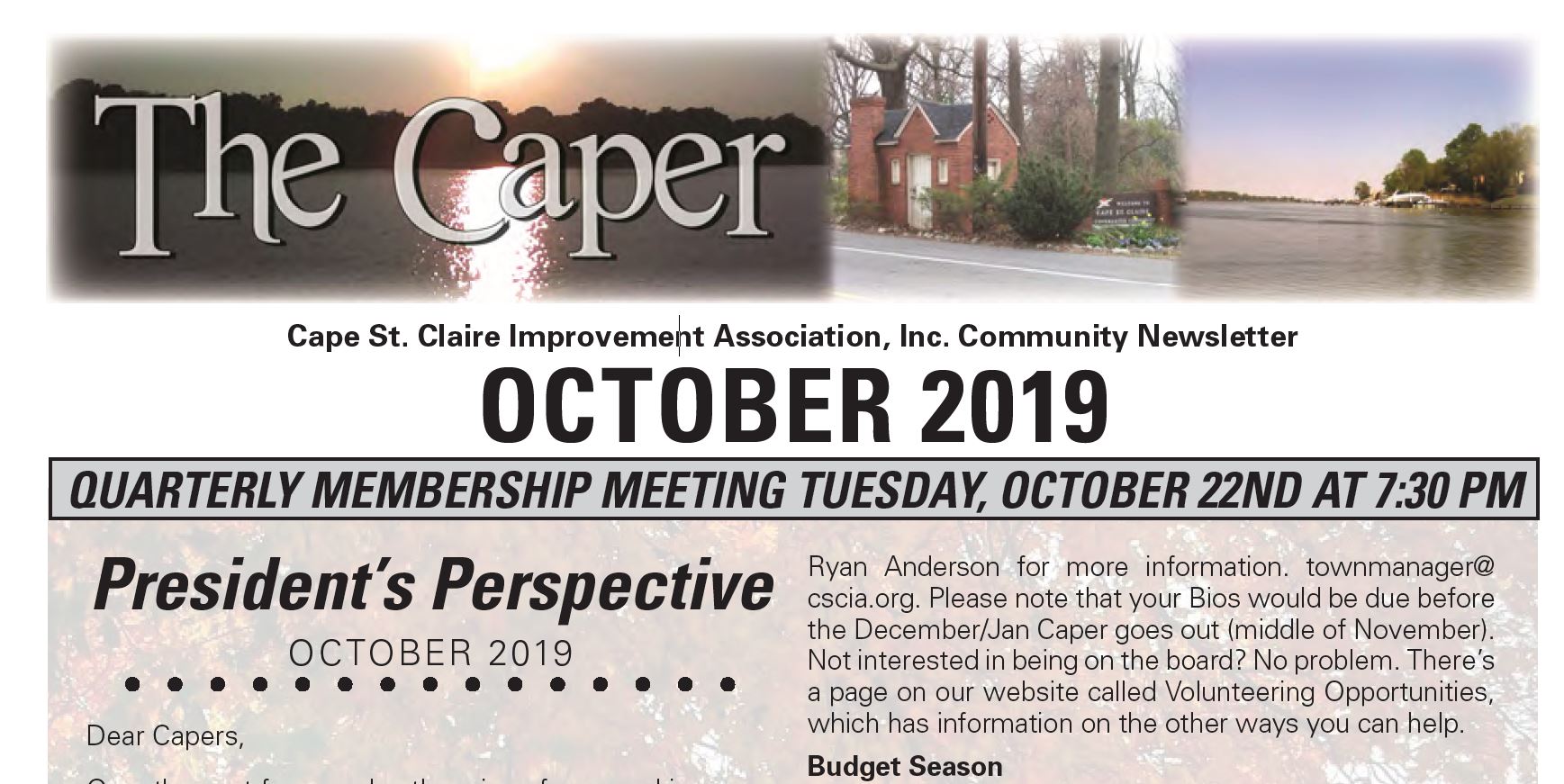 It certainly doesn't feel like it but fall has officially arrived. Cool weather is coming but summer is hanging on for dear life. Bill's message in this Caper talks about things to come with this wonderful season. He also gives an update on the entrance sign on Cape St. Claire Road which I'm sure will dazzle. It's also a call for anyone who is interested in serving this great community, it's time for nominations for new board members so please drop Ryan Anderson a line to get more information.
So many events are set to take over the Cape over the coming month. Are you ready? Here's a quick breakdown:
Goshen is having their Fall Harvest pasta dinner on October 12th at Gloria Dei! Lutheran Church from 5:00pm to 7:30pm. The Garden Club is set to have their next meeting on Tuesday October 3rd at 7pm at the clubhouse. On Sunday October 20th, they will also be hosting their Annual Dinner Potluck with the season's Yard of the Month winners as their honored guests. The Cape Community Swap is set for Sunday October 20th from 10am-2pm at the cape clubhouse fields.
The shopping center will be giving out the candy on Thursday October 24th at 5:30. Candy usually goes fast so please be there by 5:30. Halloween Happenings, the 2nd biggest event of the year, is set for October 26th down at the cape clubhouse fields from 10am to 3pm. Admission requires $5.00 per child and the donation of non-perishable food items. More details on this and the registration form can be found in this month's Caper.
Photo submission for the 2020 Calendar Photo contest are set for Thursday October 4th. More details on how to enter are in this Caper. And lastly, to round out October (okay, err, and slightly into November), Cape Conservation Corps will be having their annual Harvest Bash at the cape clubhouse on Friday, November 1st from 7pm to 10pm. Be there!
I'll see all of you around the Cape!