The Caper – 2019 Dec & January Edition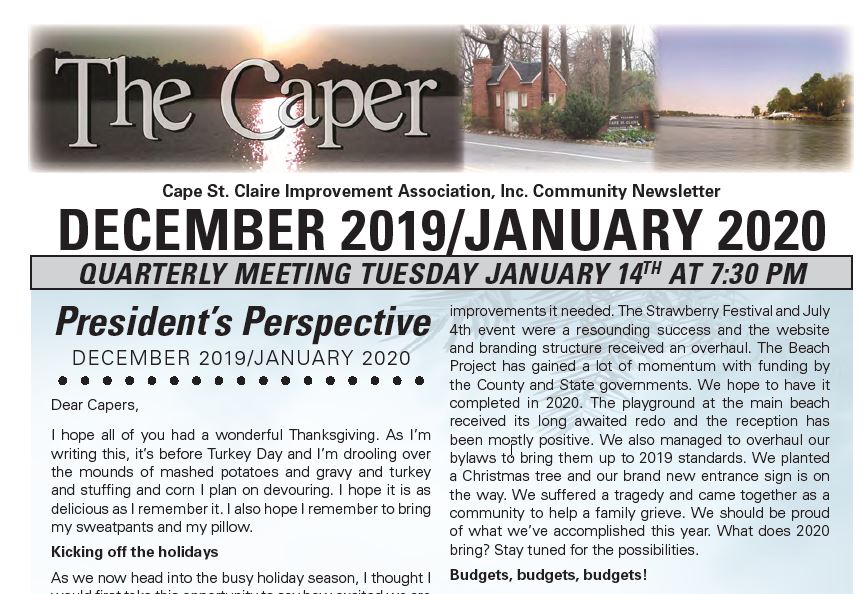 Even though mother nature tried to cancel it, the Christmas tree lighting ceremony ushered in the holiday season around the Cape. Bill's message highlights the ceremony and also talks about the year end activities. This Caper issue contains the ballot for you to elect your new and old board members for 2020. Included in this issue are the bios so please read them!
Ryan, the Town Manager, discusses the yellow cards, which should be arriving to your mailboxes in the new year. He also provides some great safety tips for the holiday season.
Coming up this week is Santa at the guardhouse and parade on Saturday December 7th, festivities begin at 4pm. On December 11th, we'll have the Annual Sing-a-long at the clubhouse. That starts at 6pm. For those who have already purchased tickets, a reminder that Breakfast with Santa will be on December 14th at the clubhouse.
On January 15th, Goshen Farm will be holding their annual membership meeting, they will have eight board positions open and they will be voting.
In this issue of the Caper, we have the Year in Review – IN COLOR! Please check out page 17 to look at Cape St. Claire 2019. Don't miss the quick little feature on the history of the candy cane, that's on page 21!
Have a great holiday season everyone and see you at the Annual January meeting being held on January 14th at 7:30 at the clubhouse.
See you around the Cape!