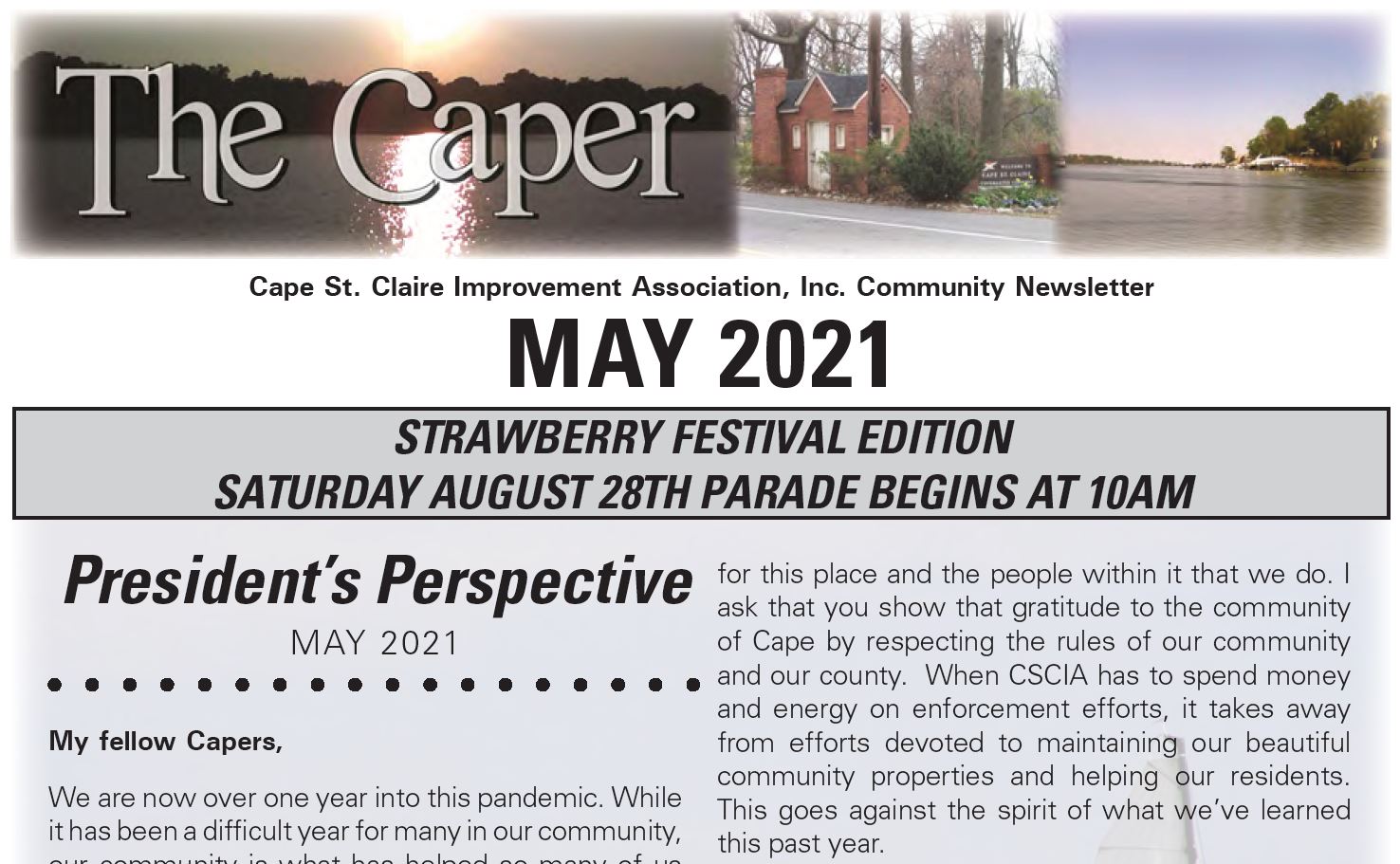 That disease which must not be named has started to loosen its grip on our dailies. Jeff, in his Presidential message dives into how TDWMNBN has affected the community over the past year. We're all looking forward to whatever the new normal can be. As we all start to get outside more and <GASP> see other humans, Jeff has a reminder to all of you on brushing up on the rules and regulations of the community, including our boat ramp and beaches. Check our site for more details.
Ryan, our Town Manager, has a great message on things in bloom and ways to improve your landscapes. Maintaining turf grass is one of the easiest ways to prevent soil erosion in your yards. The University of Maryland Extension office recommends tall fescue as the species of choice for our state. More information in this month's Caper.
In Community group news, Goshen Farm is doing their Annual Goshen Farm kayak raffle. $5 tickets can be purchased on their website: https://goshenfarm.org. Drawing will be in July. More details on this and their current membership drive are in this Caper. The Garden Club is running their "virtual" plant sale. Hurry now over to http://capegardenclub.wordpress.com to order your plants. Contactless curbside pickups for your online orders will be May 13-16. More details inside on this and ways to keep those pesky mosquitos at bay.
Cape Conservation Corps has their weekly Weed Warriors event at Lake Claire Drive. They meet at 5:00 and go to 7:00 every Wednesday. Stacey has a great article on Understory trees for your home landscape so don't miss it. Also, they announced their 2021 2nd quarter winner as EMILY BROWN. More details inside.
On May 14th and 15th from 9am to 4pm, we will be doing Cape Cleanup. There are some limitations with this year's event so please be sure to read the article on page 11 to understand what you can and can't bring.
The Cape St. Claire Strawberry Festival, even though it won't be in June, will be held on August 28th. We're so excited to have this event and we hope it will be the best yet. More details on it are in this month's Caper.
Don't miss the write-up on the CSC Shoreline Beach Restoration Ribbon Cutting ceremony that was held on April 13th. It was a great event held to celebrate the board's resiliency over the past 8 years to get it done.
Bottom line, read this month's Caper, it's LOADED with the information you need.
See you around the Cape!